I hope everyone had a nice holiday yesterday. Both my sons were able to be at the table, even though one had to work. We had a loaded table and were blest with a nice turkey that a friend brought over for us. After dinner, and pie, with the kitchen clean again, I sat down and stitched this new Christmas paper stitchery. I plan on trimming it to put on some Christmas print card stock for a nice card.Its on a white background, but with the artificial light, looks different. I found another site with more patterns and this was one of their free ones...the site is called
PinBrodery
Another one I got done for a friends birthday that is coming up...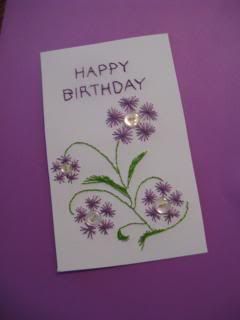 sorry that its a little out of focus, I stitched vintage buttons for the flower centers. Its been fun learning this new craft and I'm constantly amazed at the variety of patterns available.
Before I leave this, I wanted to share this video that explains how to do the picking and stitching...